Just before Christmas I visited the Lillehammer Art Museum. I went there primarily to gather data for a new research project. After that was done, I had the pleasure of seeing some recently opened and refurbished exhibitions, one of which I was very excited about. It was called "Out of the living room…" Visitors to the museum were invited to present their own favorite privately owned artworks. A new piece is being displayed every fortnight until April.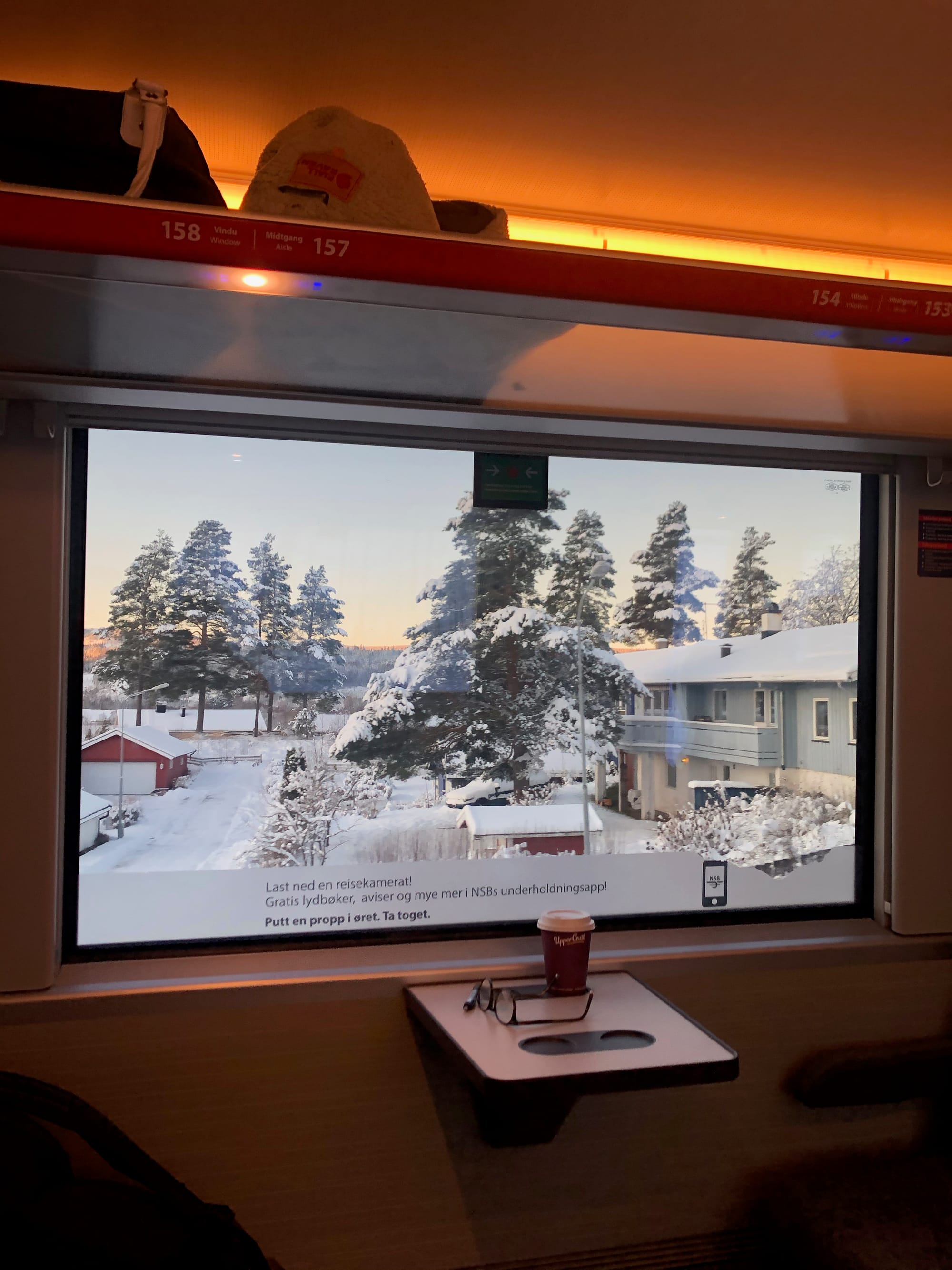 Taking the train from Oslo to Lillehammer in December was a magical experience. A Norwegian winter fairytale landscape.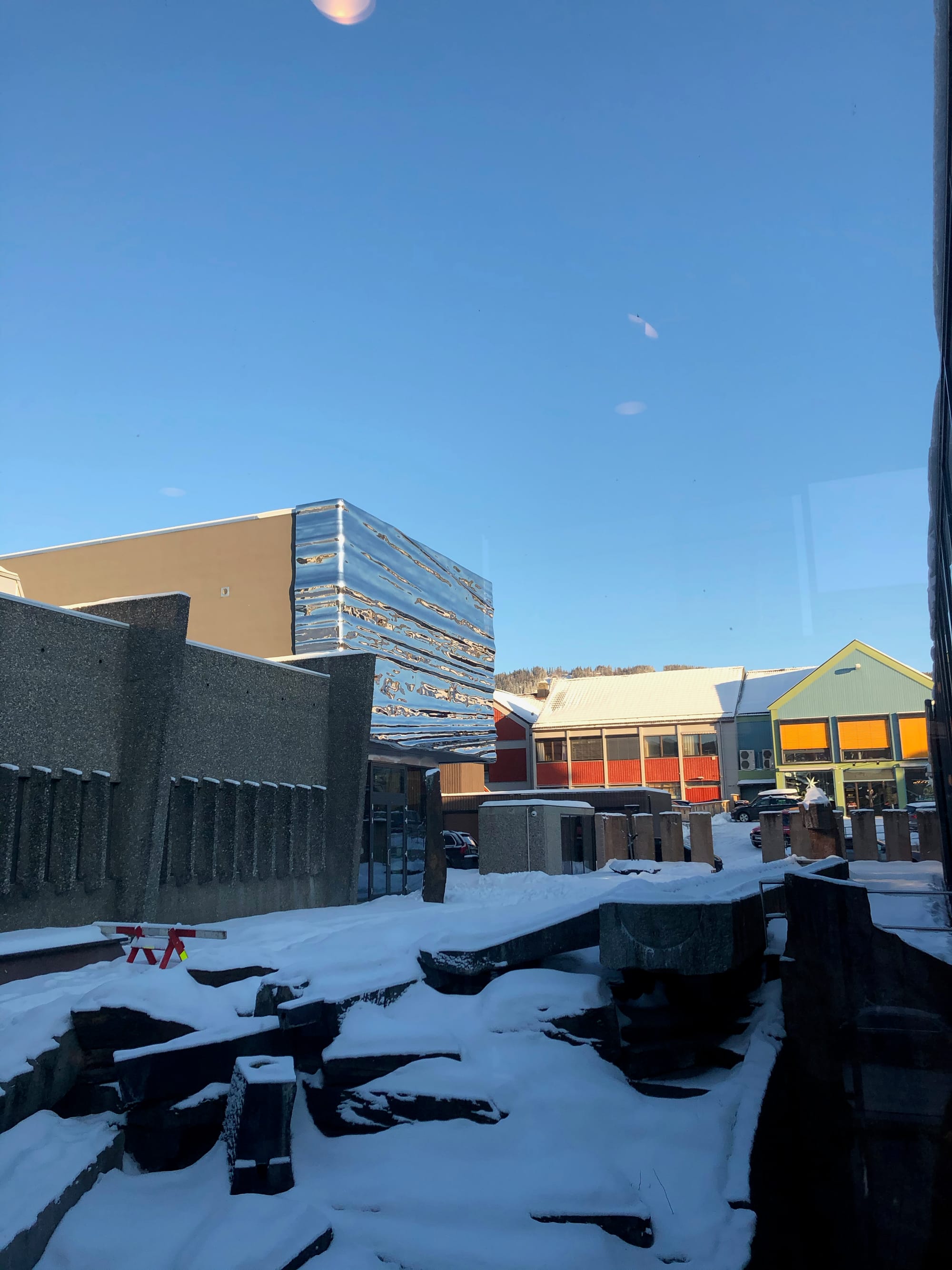 Lillehammer Art Museum covered in snow.
A participatory museum
What distinguishes a truly modern museum? For me one of the main indicators is inclusiveness, for example engaging with the local community, or even going one step further and inviting the audience to co-curate exhibitions. A truly modern museum—one that is in tune with critical and relational museology—is a democratic space which facilitates dialogue and openness.
In the 1980s, New Museology theorists started to rethink museums' relationships with their visitors and the power imbalances that characterize those relationships. Today, the goal of many art galleries is to transform from a site of worship of objects to one of critical reflection and dialogue. Books such as Nina Simon's "Participatory Museum", published in 2010, revolutionized the way museums work with community members. Her book and blog promote the democratization of the cultural life by engaging the audience in decision making and in the creative process.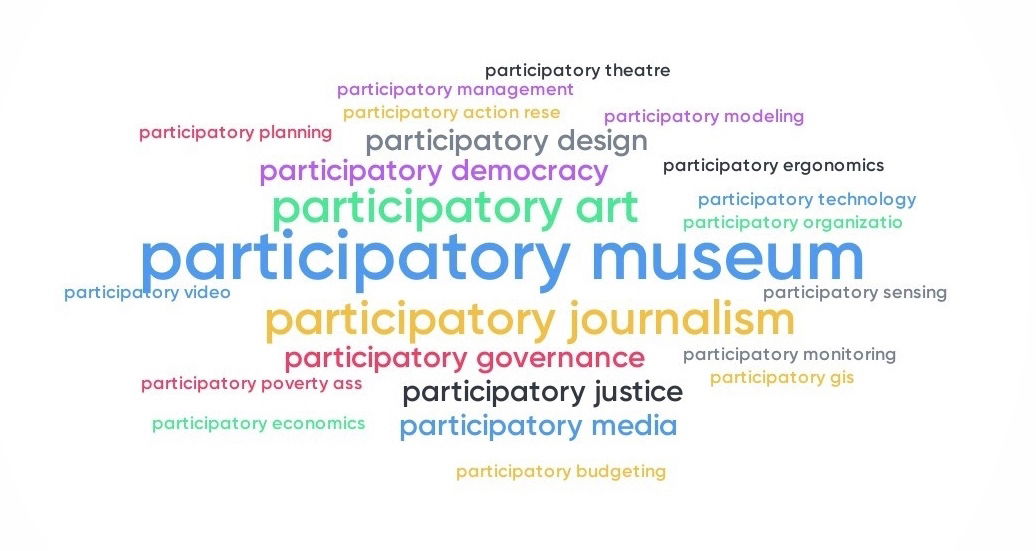 Show me your paintings and I will tell you who you are
I believe that paintings found above the sofa are an art genre in their own right. To end up in the living room, artworks need to fulfill certain aesthetic criteria, such as simply being pretty and pleasant to look at. There is a common assumption that homes tell us a great deal about their owners. However, at the Lillehammer Art Museum, the curators chose to flip the coin and ask owners to talk about their choices and the role of art in their lives. The interviews are shown on a screen as a supplement to the paintings.
The wall where a new painting is displayed every second week.
After listening carefully to the interviews, I have to say that I wish they were more extensive. I feel the question "What does art mean to you?" is a very interesting one, but it is also complex and difficult to answer briefly. I wish the curators could have asked more concrete questions, such as "What is your favorite memory of this painting?", "What is your first thought when you see it in the morning?", "How often do you look at it?" and "Do you still notice it?", or "Has its meaning changed over time?" Asking small and precise questions might have resulted in more interesting and in-depth answers.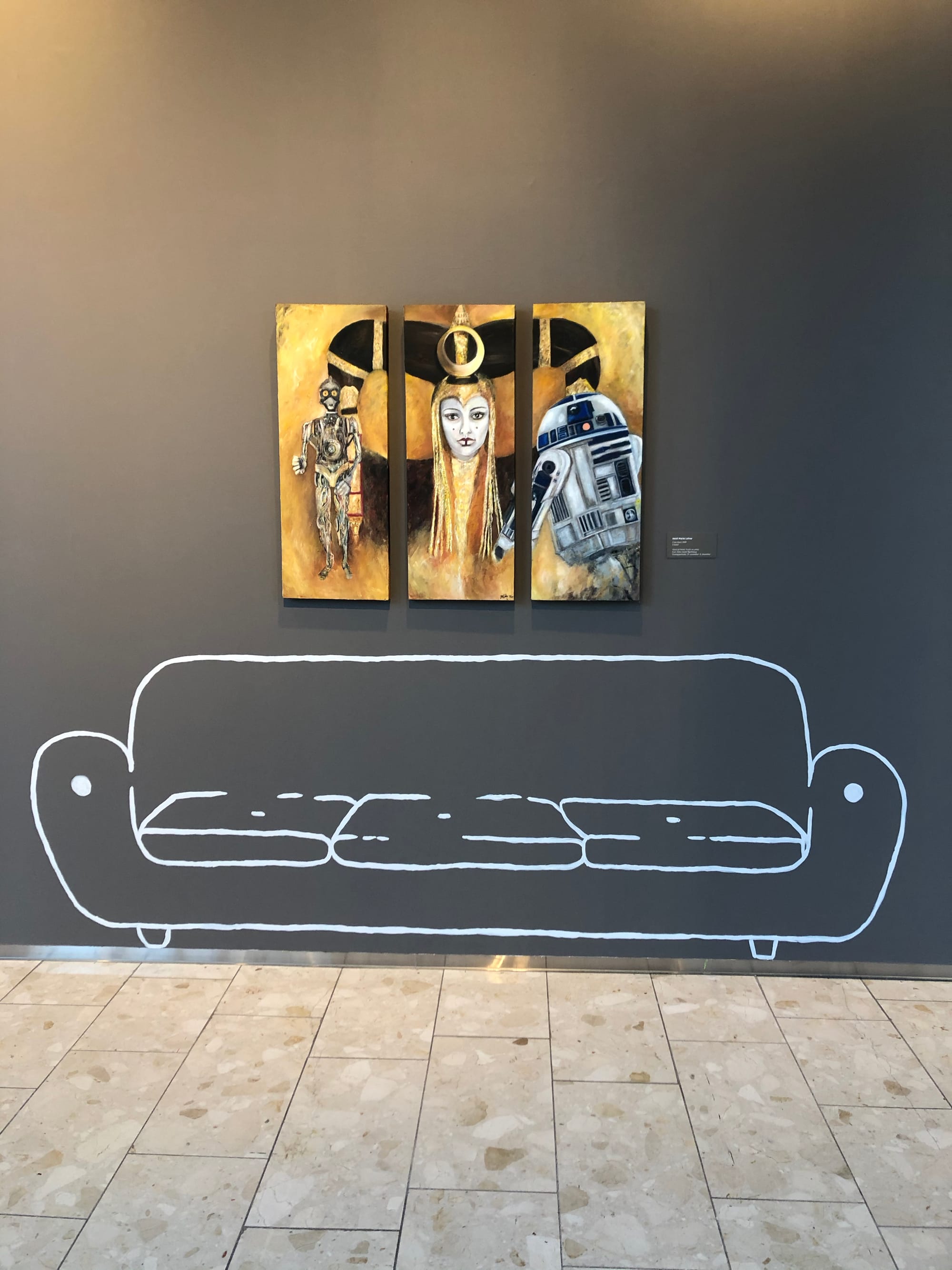 HHeidi Marie Lohne, Without Title (2019). Acrylic on canvas (three parts).i"I don't have a very strong connection to art"
The painting being displayed during my visit was a piece by Heidi Marie Lohne. It is owned by Star Wars fan John-André Bjørkhaug. The piece is inspired by pop culture, and depicts iconic droids from the movie – R2-D2 and See-Threepio. As John says in his interview, he does not have a very strong connection to art, but he wanted a painting that would illustrate his interest in the movie series, so he searched for an artist who could paint one. That is how he met with Heidi Marie Lohne, who works with paintings and sculpture and draws her creative inspiration from everyday observations of her surroundings and the landscape.
From December until April, ten different paintings, photographs and prints will be displayed in the museum. Among them are works by Ida Hjerkin, Finn Lande Andersen, Alfred William Strutt, Aage Rudolph Thygesen, Sigurd Undeland, Vegard Stalsberg and Mario Ameglio. As an out of town visitor, I would like to see them on display simultaneously. However, keeping in mind how dramatically different the paintings are from each other, the choice to present them consecutively is completely understandable. They do not form a coherent whole, but are pieces owned by individual amateur collectors.
Final thoughts
Despite its small imperfections, I am impressed by the exhibition co-curated with the audience. Projects like this require courage and present many logistical challenges – not all people are willing to show the world what is in their homes. However, for this project the response of the local communities far exceeded expectations. I would like to see a similar exhibition in one of the Oslo art museums.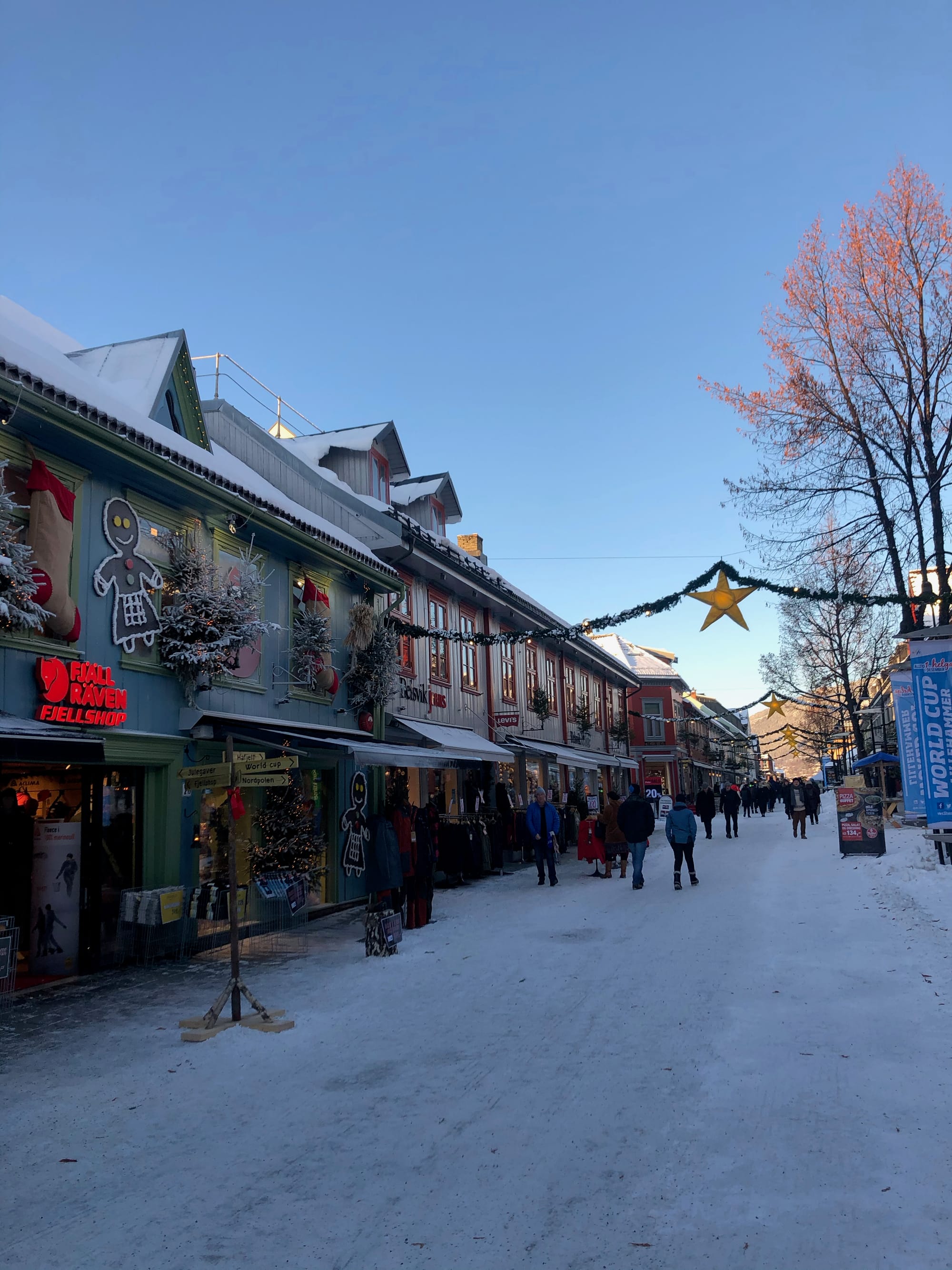 Winter cosy streets of Lillehammer. I didn't want to leave.
Links:
Nina Simon. The Participatory Museum (2010), available online: http://www.participatorymuseum.org
Exhibition at Lillehammer Art Museum: https://lillehammerartmuseum.com/utstilling/rett-fra-stua-23-november-19-april/
Heidi Marie Wien: http://www.heidimariewien.com/index.html